這些圖都是貼在一個國外知名的2D、3D的藝術網站的~^^
  主要是臺灣流行言情風或動漫風的圖像已經非常久了,我想試完全不同的路線,但在如此偏頗與狹隘的環境裡,我很難得到公平的評價,所以貼給全世界的藝術創作之友看看,請他們給我專業的批評指教~^^
  這是幫網路遊戲「神州」畫的限量海報──女劍俠。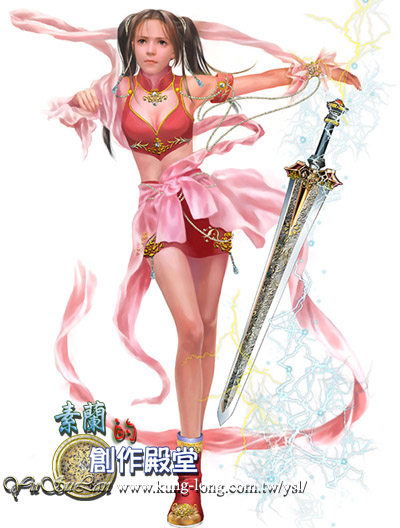 Sword Fairy作畫的解說:
( 2D & Fantasy )
Digital work, Painter+photoshop. The poster for a commercial game product. All the equipped objects were requested by the sponser, so the freedom (and joy) to create a character was quite limited here. Nevertheless, hope you enjoy it.
評價:
dido6--All i can say is wow!!!
06/19/2004
dburdick--I see you're new to 'Rosity. Welcome!! This is superb. I look forward to seeing more of your work
06/19/2004
Ringwraith--Magnificent artwork, my friend, and welcome to Renderosity, hope You will find a lot friends here. I hope to see more from You soon. What game was that poster created for? You earned a *vote* from me for it. Luke aka Ringwraith.
06/19/2004
Fogge--Wonderful and amazing artwork! Excellent!
06/19/2004
syndroid--I love the character. Looks very good, smooth and still sharp. The sword is too pixelated for my taste... it looks a bit "added" to the scenery. The lightening is quite... unrealistic... maybe you can make it a bit more realistic by softening it a bit...
06/19/2004
kenwas--Super job! Great flow of color and design.
06/19/2004
terryla--fantastic render, can't believe this is your first entry to the gallery. Thank You for posting it, and welcome.....
06/19/2004
A_Joker_B--AbSOLUTEly stunning work Shirland, well done!
06/19/2004
i-popba--Wonderful image.!!! love colours and details ! Excellent! ..***VOTE***
06/19/2004
jocko500--did a good job
06/19/2004
carlosnr1--Just amazing!!
06/19/2004
ShadowWind--Wonderful work all around...
06/22/2004
crazygod--oooh soo excellent looks like a fantasy character for final fantasy excellent.....just wow "vote"
06/22/2004
attileus-- X L N T - wonderfull work!
06/22/2004
midrael--Wow, end of story. Just wow!
06/22/2004
Bluestar--wow!!! Wonderful artwork!
06/22/2004
SevenOfEleven--Well done. Kudos on the details on the sword.
06/23/2004
FluffyAnna--woah!! stunning work... this is masterful, even if you didn't have total freedom to do as you wanted i hope you are proud of the result. i'm not surprised i found this one in the 2D hot 20!! *vote*
06/26/2004
twisted_angel_9--wonderful! I'd buy this game!
06/28/2004
A_--wow, the face is specifically amazing, so real! and the rest is just as beautiful, so dynamic!
07/14/2004
xoddity--This is an excellent work and I love it.
07/16/2004